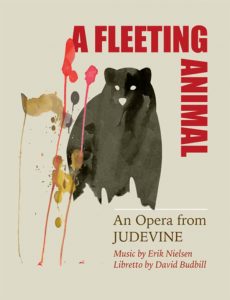 New! See our two trailers (#1 or #2) for our next tour, coming in 2019. Stay tuned!
Here is some recent media coverage:
The Times-Argus/Rutland Herald review 9-13-2015
DESCRIPTION:
A Fleeting Animal: An Opera From Judevine – "the brilliant and heartwrenching creation of Brookfield composer Erik Nielsen and Wolcott poet David Budbill" (Jim Lowe, Barre-Montpelier Times-Argus/Rutland Herald) is the tragic love story of Tommy, a recently returned veteran (Adam Hall), and Grace, a struggling and misunderstood single mother (Mary Bonhag). The supporting characters in the rich cast leap straight from the often muddy and messy roads of rural Vermont life. This newly revised production is led by Anne Decker as Artistic Director conducting her ensemble TURNmusic and Margo Whitcomb as Stage Director.
A Fleeting Animal is timeless in its themes: the harm of individual isolation and the possibility of community redemption. Like all great operas, it has passion, humor, and tragedy. With its earthy characters and libretto and music inspired by French Canadian fiddle tunes, the blues, jazz, and other contemporary styles, A Fleeting Animal appeals to a broad audience, including those who wouldn't normally attend an opera. The cast includes Sarah Cullins, Allison Mills, Johnny Lee Green, Geoffrey Penar, Thomas Beard and George Cordes, and a chorus filled with some of Vermont's finest singers. TURNmusic includes Mary Rowell (Craftsbury Chamber Players), John Dunlop and other top Vermont musicians.
There will be an optional talk-back session after each performance with the creators of the opera and representatives from the veterans community.
NOTE: A Fleeting Animal is a tragedy. It contains scenes that are emotionally intense and realistic. There are four simulated gunshots during the performance. It may not be suitable for all audiences.
(See Blog Posts at the end of this page for more about A Fleeting Animal.)
A FLEETING ANIMAL PERFORMANCE SCHEDULE SEPTEMBER 2015
Friday, September 11: Barre Opera House 7:30 p.m.
Saturday, September 12: Elley-Long Music Center, Colchester 7:30 p.m.
Sunday, September 13: Hardwick Town House 4 p.m.
Friday, September 18: Woodstock Town Hall Theater 7:30 p.m.
Saturday, September 19: Vergennes Opera House 7:30 p.m.
Sunday, September 20: Chandler Center for the Arts, Randolph 4 p.m.
AND NOW WE HAVE AN ART SHOW! 
FLEETING MOMENTS: WHY WE GO ON is a pair of companion art shows that build on themes in the opera. More than 20 artists and poets responded to the call for works that speak to the hardships and joys of rural living; love and loss; and the experience of returning veterans, their families and communities. The art shows are intended as a counterpoint to the opera. The selected works reflect the duality and balance point between despair and hope, loss and recovery, or fleeting moments that deliver us from the struggles of everyday life.
The first of the two shows is now open in the Chandler Center Downstairs Gallery in Randolph. It runs August 14 through September 27. Thirteen Vermont artists are featured in this exhibit. It includes photography, sculpture, poetry, and art made from the pulp of recycled combat uniforms. The reception is Saturday, August 22, 6:30-8:30 p.m. Gallery hours are Friday 3-6 PM; Saturday and Sunday Noon-3 PM; and all day during the September 6 New World Festival.
The second art show at the Barre Opera House opens 6 p.m. on Friday, September 11th before the Opening Performance of A Fleeting Animal.  It includes work by 16 visual artists and poets.  That show will remain in the opera house lobby through October 3rd and can be viewed during other public performances on September 12th, 19th, 25th and 26th, and October 3rd.
HOW TO DONATE
Donations create the funding that will allow us to put on the new production of this opera. All contributions to support the 2015 production of A Fleeting Animal are tax-deductible to the extent allowed by law. Right Here Productions is partnering with the Monteverdi Music School in Montpelier as its fiscal sponsor. Monteverdi Music School is a registered 501(c)(3) non-profit organization. Contributions may be directed to:
Monteverdi Music School, P.O. Box 1062 Montpelier, VT 05601-1062
Please put A Fleeting Animal in your check's memo.
Or if you'd prefer to make a secure contribution online via PayPal, go to:
Please put A Fleeting Animal in the "purpose" field.
 BLOG POSTS